Tangy BBQ Sandwich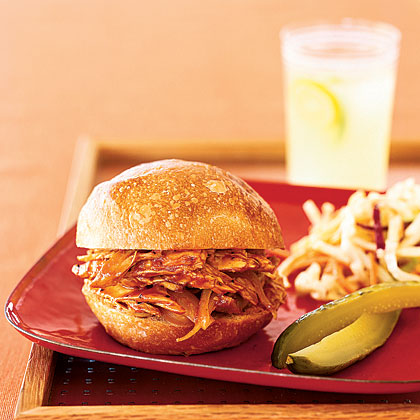 Light and lean barbecue
Ribs, pulled-pork sandwiches, and barbecue chicken can be diet-friendly, too! With a few simple modifications, we've turned your summer favorites into healthy, finger-lickin' meals.




Tangy BBQ Sandwich
Using lean turkey breast instead of pork cuts down on calories, but the tangy barbecue sauce packs plenty of flavor. Serve with low cal
for a complete meal.
Ingredients

1 tablespoon

unsalted butter

1

large (about 2 cups) thinly sliced onion

1/2 teaspoon

kosher salt

3 tablespoons

cider vinegar

1/2 cup

barbecue sauce

1/2 cup

water

4 cups

(about 1 pound) leftover chopped cooked turkey breast

1/4 teaspoon

freshly ground black pepper

6

(1 1/2-ounce) Kaiser rolls or hamburger buns, split and warmed

Dill pickles (optional)

Hot sauce (optional)

Preparation

1. Melt butter in a medium saucepan over medium-high heat. Add onion and sprinkle with salt; cook, stirring frequently, until soft (about 7-9 minutes). Add vinegar, barbecue sauce, and 1/2 cup water; simmer 5 minutes. Add turkey to sauce mixture, and stir until thoroughly heated (about 3-5 minutes). Add pepper, taste, and season with additional salt, if needed.

2. Arrange turkey evenly on bottom halves of buns; top each portion with additional sauce. Cover with bun tops; serve with pickles and hot sauce, if desired.

Calories:370Cal